Britishless British Airways – The branding folly
British Airways has abandoned a multimillion-dollar facelift that began just two years before in favour of the Union Jack.
By the end of the 1990s, British Airways had established itself as a frontrunner among airlines because of the sheer size of its operations. However, at British Airways, size, dependability, and prestige were not seen as essential qualities for the 21st century.
Using the definition of "image capital" as "a mix of memories, connections, and expectations that all successful businesses have in common," the main problem was the notion that the organisation need more than simply a unified master brand to compete on a global scale.
In June 1997, British Airways introduced a new brand identity and goal statement: "To be the undisputed leader in world travel."
The goal of the new branding was to transform British Airways from being seen as a domestic carrier with international reach into "a world airline whose headquarters happen to be in Britain," or a truly global company.
British Airways CEO Bob Ayling revealed his plans to invest some $100 million in a rebranding effort. British Airways started removing national colours from its aircraft and replacing them with patterns from across the globe to make the carrier seem less blatantly British. On airport runways around the world, you can see fins with designs that were inspired by Maori tattoos, Japanese calligraphy, Delft ceramics, and other cultures.
The airline said that this action endeared them to international passengers. However, 40% of British Air's clients live in the United Kingdom. It's no secret that the new strategy didn't sit well with the British, especially the well-off vacationers who can afford the pricey business-class seats.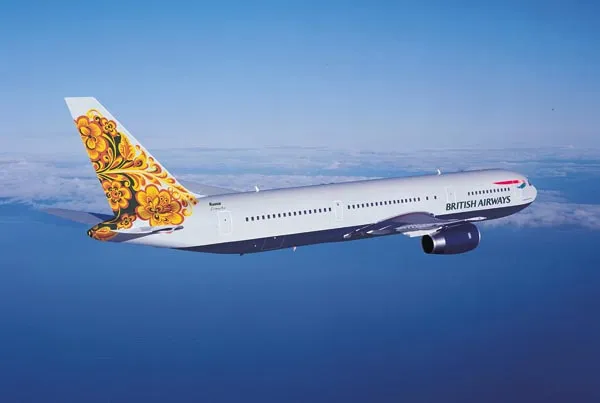 The coming back of the Union Jack
While the British upper classes saw contemporary art as fresh and exciting in the 1990s, the general populace considered it as elitist claptrap that received too much press attention without having anything to do with their actual life. The removal of the Union Jack was seen as another of this "cosmopolitan folly" by these people.
When British Air showed a model of its worldwide designs at a Conservative Party national conference, former Prime Minister Margaret Thatcher called the idea "terrible" and covered the plane's offensive fin with a silk handkerchief. Focus groups and polls showed that a lot of people, especially middle-class people and older people, agreed with Thatcher.
British Airways opted to put back the Union Jack in 1999, reversing a multimillion-dollar revamp that had just started two years before.
Each new jet from British Air or one that was repainted had a wavy red, white, and blue symbol based on the British Union Jack flag. In essence, the largest British airline has decided that flag-waving that the Union Jack and Britishness had a place in the cutthroat market for long-distance flying passengers.
Recently, the industry had not been kind to British Airways. Beset by an oversupply of tickets across the Atlantic, falling Asian demand, and a swarm of low-cost rivals throughout Europe.
In the end, Ayling decided that his grand rebranding plan was "50% incorrect." He said that the worldwide design tail fins were a hit with certain passengers but had failed to resonate with the company's traditional clientele in the United Kingdom
Richard Branson, an adversary of the airline, offered a different theory. Branson has been competing with British Airways for years after expanding his record shop brand, Virgin Music, into the aviation industry. After British Air discontinued flying the Union Jack in 1997, Branson declared his airline to be "Britain's flag carrier" since it had a fleet of 25 planes. His firm stance was that British Airways' statement was meant to preempt Virgin Atlantic.