Nalli Silks – A Household Name for Silks
Due to its commitment to upholding the key principles of trust and excellence, Nalli has amassed a loyal following spanning many generations.
Nalli Chinnasami Chetty was born in Kanchipuram, Tamil Nadu. His ancestors were from Nalli, Andhra Pradesh, and had relocated to Kanchipuram. Since the fifteenth century, textiles had been part of the family's heritage.
He was a skilled silk saree weaver. In 1911, during King George V's visit to Madras, he was commissioned to weave a special silk shawl/saree as a keepsake for the monarch. He came up with the "Durbar Pet" or "Coronation Border" weave. (This is still available upon request from Nalli).
He would show up at Mambalam Railway Station in Madras (now Chennai) at least twice a week to sell sarees door to door., a mostly residential neighbourhood over the then-famous commercial district Mylapore, to open his business (and home) in 1928 was partly because of this. As a result of his efforts, T Nagar has become known as a destination for silk sarees.
Experimenting with colours
Chinnasami Chetty was always the first to try everything new. Cotton and silk dyeing in India were limited to vegetable sources until 1921. Perhaps chemical dyes were used to colour cotton. Ciba, on the other hand, pioneered the use of chemical colours in silk. The Swiss managing director, a chemical engineer, and their dealer in Chennai's Govindappa Naicken Street travelled to Kancheepuram. They headed to P.S. Kandhaswamy Muthu, a well-known sari store. They were led to Chinnasami Chetty by the proprietor of the store.
People didn't talk about their dying processes all that much back then. However, the range of colours available was limited as well. To get red, they may add a specific seed to the dye. In any case, the dyeing process was kept hidden from public view. It was Ciba's turn to come up with a fresh strategy. To begin with, they asked the Nalli family to demonstrate the dying process. They agreed and demonstrated the dying procedure for a certain colour. It was shown that the CIBA process was much faster than the historical one, and Nalli adopted it.
Chinnasami Chetty began by working out of his T Nagar home, but by 1935 he had built a modest storefront in the same neighbourhood. It rapidly became a thriving enterprise. As a result, it was the only business that remained open during World War II in 1939. During this time, people from all around Madras made purchases at Nalli, making it a permanent reminder of the city's grit and determination.
Policies
In 1951, Nalli moved to its current location in T Nagar, where it has remained ever since. Nalli Kuppuasami Chetty, the founder's grandson, joined the company in 1958. Nalli's products are of the highest quality, and Nalli is committed to making them available at reasonable costs to all customers. Therefore, he chose to institute a "no discount" policy. It was a risky move for the Nalli brand, but it earned the company more respect.
Narayanaswamy Iyer taught Tamil to Kuppusami Chetty in the ninth grade. On the first day, he instructed the boys to go to the library and read books to expand their vocabulary. Tamil or English might be used. Kuppusami decided to go to the library. He just couldn't figure out what he needed to read. Kuppusami Chetty received two books from the librarian after he explained his situation—Mahatma Gandhi's "Satya Sothani"[The Story of My Experiments with Truth] and Ramakrishna Paramahamsa's "Amutha Mozhigal"[Thus Speaks Ramdas].
On reflection, he came to the conclusion that Mahatma Gandhi fought for independence by following two principles: truth and ahimsa [respect for all living things and the avoidance of violence against others]. Kuppusami was determined to live by the ideals of truth and honesty when he entered the business. While working at Nalli, he found that this business was already following these ideas. This belief was shared by both his grandfather and his father. Even today, many individuals believe that running a company successfully requires the use of deception. Nalli, on the other hand, has always operated in this manner. Consequently, Nalli's consumers trust the brand; if Nalli says something is true, it is.
The finest rule of thumb was, to tell the truth. Chinnasami Chetty, the company's founder, had vowed never to cut corners regarding product quality. While Nalli now refers to grams, it was previously known as Palam or Veesai. According to Chinnasami, the zari weight of the sari may be more than what they told buyers, but it could never be lower. The third factor was cost. Prices were fixed so that Nalli would make a minimal profit.
Nalli had other pluses too, such as timely delivery and additional yardage (9.75 yards against the standard 9).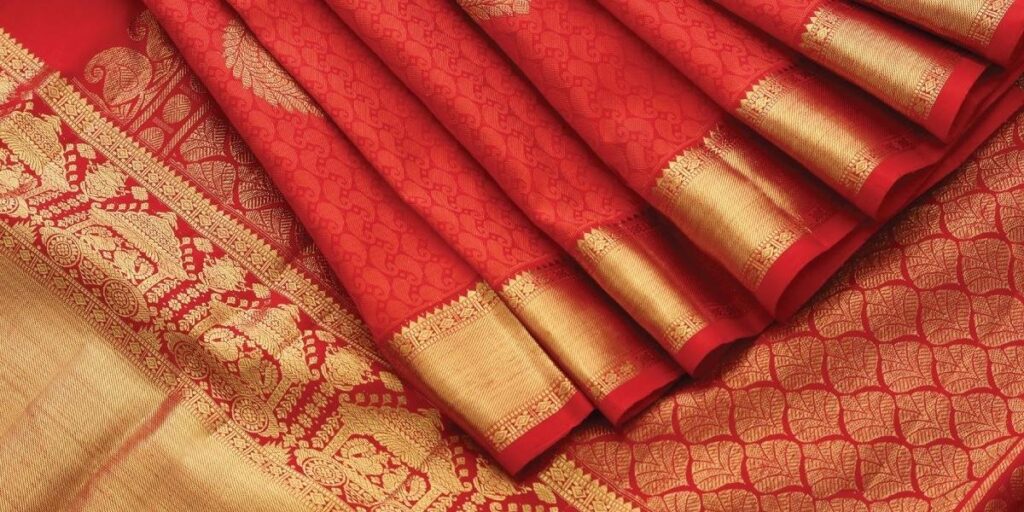 Variants
During Deepavali, new saris with fresh names are brought to the market each year. In 1911, they created what was dubbed "the 'Durbar Border." In 1947, India gained its independence from the United Kingdom. An Indian Tricolour-inspired border was created to honour the event. "National Border" was the moniker given to it. The Tamil film "Thyaga Bhoomi" (Land of Sacrifice) inspired the naming of one of the sari borders in 1934, when sound cinema (talkies) was introduced. In 1961, they dubbed a sari "Paalum Pazhamum Kattam" [MilkFruit Checks] and "Thennilavu" [Thennilavu] "Honeymoon's edge."
In 1951, M.S. Subbalakshmi, one of the biggest names in Carnatic music, stepped into a Nalli shop on a clear summer morning with a blue thread in her hand. The thread was dyed a specific shade of blue to match the saree she envisioned wearing it with. However, since that specific shade of blue wasn't readily accessible in the market, Nalli experimented with dyes in their own workshops until they created a stunning Kanchipuram silk saree in her own favourite shade of blue. As a result, the colour was dubbed "MS Blue" for short.
Wedding Destination
"Nalli" has become associated with authentic and pure Kanchipuram silk sarees by the 1970s." Nalli's assertion that "every wedding deserves a Nalli" became a reality, with half of the company's revenue coming from bridal saris and dhotis. Weddings and other major events necessitated the purchase of silk saris and dhotis from Chennai.
Nalli launched a second shop in Madurai in 1985 after the first one in Chennai was hugely successful.