Minimum Viable Audience = Extra Lucrative Audience = Best ROI
Look at micro-targeting and only get people who will really find your product/ service interesting. The intention is to build a tribe of like-minded people who have similar interests, needs, and wants
We have been advised as marketing professionals to reach out to the maximum number of people in our target audience at the lowest cost. So our goal is to reach out to many people without engaging many of them.
And that is the biggest problem.
If you don't engage with your target audience, the chances of building a connection with them are bleak (not unless you have a kickass one of a kind product/ service).
The answer is very different from what we have learned – Take the smallest market which your brand/ product can serve, service, and sustain. Create strong stories that will appeal to them. Build stronger relationships, because you are catering to a smaller audience. Rather than try to do something for many, build something exceptional for a smaller group, whose needs are unmet by the current offerings.
The concept has been made popular by Seth Godin. Seth insists, "the goal [for creators] isn't to serve everyone. The goal is to serve the right people."
So to arrive at the MVA – drill down deep! Look at micro-targeting and only get people who will find your product/ service interesting.  The intention is to build a tribe of like-minded people who have similar interests, needs, and wants. The more curated your list, the more you're able to meaningfully impact the people and want to engage with you as a creator. If anyone is not interested – then she is not a part of your tribe/ MVA.
A great example is Airbnb.
They started on getting 100 customers who loved their proposition which was their MVA
"It was better to have 100 people who loved us vs. 1 million people who liked us. All movements grow this way. There was no way we could get 1 million people on Airbnb, but we could get 100 people to love us." – Brian Chesky, Founder & CEO of Airbnb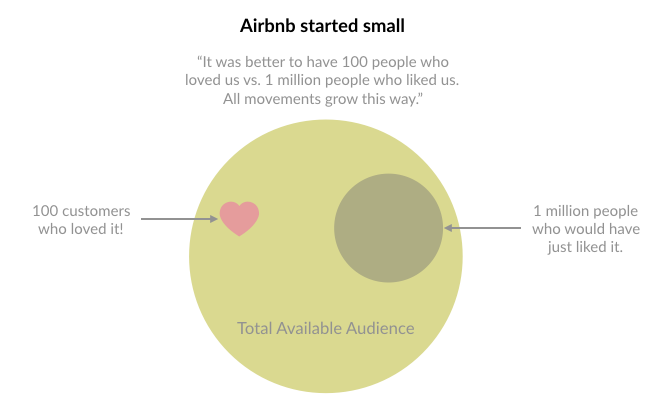 The rest is history.